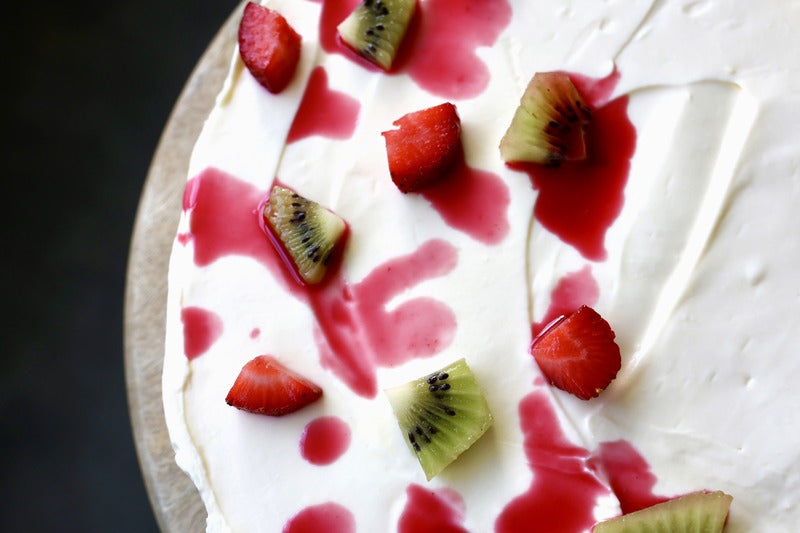 This silky smooth cheesecake is sure to get your taste buds tingling with divine bursts of flavour from our Strawberry & Kiwifruit tea. The real secret to this cheesecake is in the syrup. We're certain that it will be love at first bite and you'll be scheming all sorts of recipes to add this syrup to! 
Impress your friends with this tea-licious treat and let us know how it went below! 
INGREDIENTS
Biscuit Crust 
240g super wine biscuits 

⅓ cup packed brown sugar 

½ cup (113g) unsalted butter, melted 
Cheesecake Filling 
1 ¼ cup (300ml) heavy cream

680g cream cheese, softened to room temperature 

½ cup granulated sugar 

2 Tbsp icing sugar 

¼ cup (60g) sour cream, at room temperature 

2 tsp lemon juice 
Strawberry & Kiwifruit Syrup 
INSTRUCTIONS
Biscuit Crust 
Crush the super wine biscuits until breadcrumb size. Add the butter and sugar to the biscuit crumb and combine. 

Pour into a 9-inch springform pan or 10-inch and pack it in very tightly. The tighter it is packed, the less likely it will fall apart when cutting the cheesecake. Freeze for 10-20 minutes as you prepare the filling.
Strawberry & Kiwifruit Syrup
Place the sugar, water, and Strawberry & Kiwifruit tea into a small pot. Bring to a boil and simmer for 2 minutes. Remove from heat, and steep for 5 minutes. Strain and cool completely.
Cheesecake Filling 
Using a hand mixer, whip the cold heavy cream into stiff peaks on medium-high speed. Set aside.

Using a hand mixer, beat the cream cheese and granulated sugar together on medium speed until perfectly smooth and creamy. Scrape down the sides and up the bottom of the bowl with a spatula as needed.

Add the icing sugar, sour cream, lemon juice, and vanilla extract. Beat for 2-3 minutes on medium-high speed until smooth and combined. Make sure there are no large lumps of cream cheese. Keep beating lumps until smooth.

Fold the whipped cream into the cheesecake filling using a spatula until combined. Combine slowly as you don't want to deflate all the air in the whipped cream.

Remove the crust from the freezer and spread the filling onto the crust.

Once the syrup has completely cooled, lightly drizzle some on top of the cheesecake.

Cover tightly with glad wrap and refrigerate for at least 6-8 hours and up to 2 days. 
To serve
Top the cheesecake with fresh strawberries and kiwifruit. Complete by drizzling more of the syrup on top or on the side.
To be enjoyed with your favourite cup of tea.