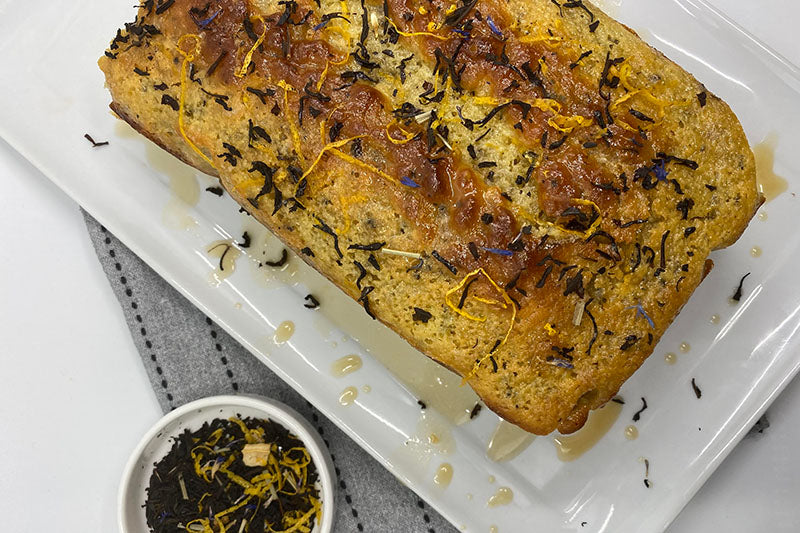 We're not afraid to try new things, and are committed to innovation. Ever thought of adding tea to your cocktail? What about when baking? Well soon you will, and it starts with this Earl Grey, Lemon Loaf and Earl Grey Glaze. The loaf itself is moist and has bursts of lemon flavour, however that Earl Grey Special Glaze really is the star of the show.
Lemon and Earl Grey Loaf 
½ cup (113g) unsalted butter, softened 

1 cup (200g) granulated sugar 

3 eggs (150g)

Zest of 1 lemon

Juice of 1 lemon 

2 teaspoons (5g) vanilla extract 

⅓ cup (80g) sour cream

1 ½ cups (195g) all-purpose flour 

¼ teaspoon (1g) salt 

½ teaspoon (2g) baking powder

¼ teaspoon (1g)  baking soda 

Leaves from 2 Earl Grey Special pyramid tea bags (4g)
Earl Grey Special Glaze
½ cup (120g) milk

1 ½ cups (180) powdered sugar
Instructions
Preheat the oven to 180°. Butter a medium-sized loaf pan, then line the pan with a piece of parchment paper. Place the baking paper so that it covers the bottom of the pan and extends across the long sides, and leave a little bit on the edges to lift the loaf out later. 
Check out our Instagram here for a quick video to follow along with the instructions below.
 
Prepare the Earl Grey and Lemon Loaf: In a stand mixer fitted with a paddle attachment (or a large bowl with an electric mixer), beat the unsalted butter and granulated sugar until light and fluffy, about 3-5 minutes. Next, add in the eggs until combined. Add in the lemon zest, lemon juice, vanilla extract, and sour cream, and mix until combined, scraping the bowl at the end. Next, add the all-purpose flour, salt, baking powder, baking soda, and tea leaves to the wet ingredients and mix until just combined—be careful not to overmix!
 
Pour the batter into the prepared pan and level the batter so that it's even. Bake the loaf cake in the preheated oven for 55-65 minutes, or until a toothpick inserted into the middle of the cake comes out clean.
 
Let the loaf cake cool in the pan for about 10 minutes, then lift the cake out of the pan and transfer it to a wire cooling rack to cool completely.
 
Prepare the Earl Grey Glaze: In a medium saucepan, bring the milk to a boil over medium heat. Then, turn off the heat, add in the 4  Earl Grey pyramid tea bags, and let the tea infuse for 10 minutes. Remove the tea bags from the saucepan. In a medium bowl, whisk together the powdered sugar and 6 tablespoons of the Earl Grey-infused milk. If necessary, add more of the infused milk until you reach a glaze-like consistency.
 
Once the cake has completely cooled, drizzle the glaze on top and serve. The more glaze the better in my opinion! Top with extra tea leaves and lemon zest.