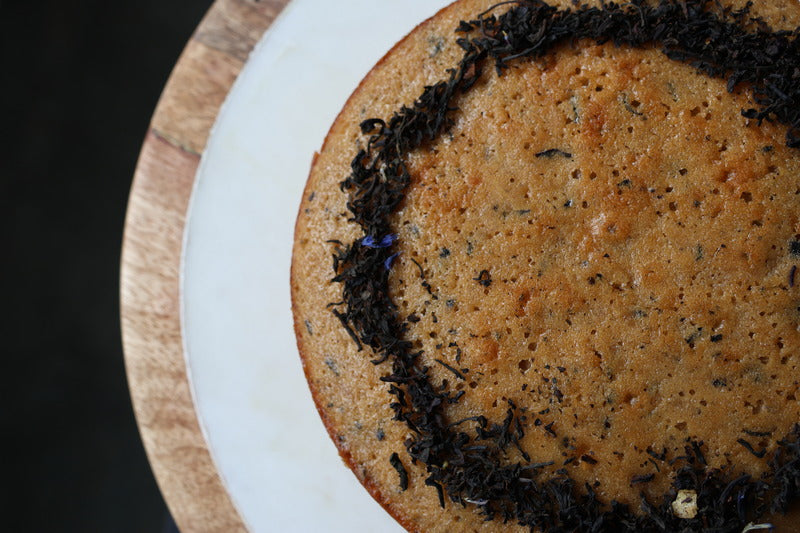 Earl Grey Sir Scott is unlike any other tea. This scrumptious blend of Earl Grey combines vanilla, banana and anise. The more you drink it the more it makes sense and soon enough, you'll be putting the kettle on for more! We had some fun experimenting in the kitchen with this interesting and delicious tea. Try it out for yourself, we would love to know how you get on!   
INGREDIENTS
Earl Grey Milk:
Cake:
2 1/4 cups all-purpose flour

2 tsp baking powder

2 tsp Earl Grey Sir Scott finely ground

3/4 tsp salt

3/4 cup unsalted butter room temperature

1 1/2 cup granulated sugar

3 large eggs room temperature

1 1/2 tsp vanilla

1 cup Earl Grey Sir Scott milk room temperature
Earl Grey Syrup (optional):
1/4 cup granulated sugar

1/2 cup water

1 Tbsp Earl Grey Sir Scott tea
INSTRUCTIONS
 Earl Grey Milk:
Bring milk and tea to a boil in a small pot over med-high heat. Turn heat off and steep for 10 mins. Strain and measure out 1 cup. Top up with milk if needed.
Cake:
Preheat oven to 180°C. Grease two 6″ cake rounds and line with parchment.
In a medium bowl, whisk flour, baking powder, tea, and salt until combined. Set aside.
Using a hand mixer, cream butter and sugar on med-high until pale and fluffy (approx 3mins). Reduce speed and add eggs one at a time fully incorporating after each addition. Add vanilla.
Alternate adding the creamed mixture and Earl Grey milk, fully incorporating after each addition.
Bake for around 35 mins or until a toothpick inserted into the centre comes out mostly clean.
Place cakes on a wire rack to cool for 10 mins then turn out onto a wire rack. Allow cakes to cool completely.
Earl Grey Sir Scott Syrup:
Place sugar, water, and Earl Grey Sir Scott tea into a small pot. Bring to a boil and simmer for 2 mins. Remove from heat, steep for 5 mins. Strain and cool completely.
To serve:
For our Earl Grey lovers the Earl Grey syrup is a must to drizzle on top of your slice. If the bergamot, anise and banana seems a bit intimidating, enjoy the cake on its own. But we guarantee you will be wanting to dunk your slice in the syrup at first taste!